WELCOME TO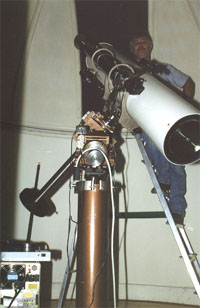 BIG HILL OBSERVATORY
THIS SITE IS UNDER HEAVILY CONSTRUCTION
INTRODUCTION
The Big Hill Observatory is located at Morro Grande south Brazil. The domed structure have a diameter of 3.2 meters and holds a 8 inch f/7 Newtonian telescope made by a friend Dario Pires. A small 4 inches Celestron C102-HD refractor is used like an astrophotography guider. The mount is a germanic equatorial type, motorized on both axis and controled by a 386 computer running Mel Bartels software.
You can see some astrophotography using the equipment above in the
GALLERY section.
If you want, you can contact me.